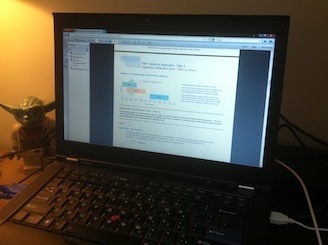 I answer a large number of questions on my post about whether or not it's worth getting PMP certified – a great many experienced and budding project managers are interested in knowing whether or not PMP certification is a good move for their careers. In general, I feel that if you're a project manager, and you're interested in continuing your career in project management, it is worth it to go ahead and apply for, take, and pass the PMP examination to become a certified Project Management Professional. Though some project managers dispute the certification's worth, it does seem to help project managers land project management jobs – or at least get their feet through the door.
Applying for the PMP examination
One of the most frequent (if not the most frequent) questions I am asked by potential PMP hopefuls is about the PMP examination application process. In particular, project managers would like to know how they should go about filing their work experience: how to document their hours of project management experience, how to report it to PMI, and how to prepare for the dreaded PMI audit, should it occur.
I followed a process of my own devising to file my own project management work experience in preparation for my application to take the PMP exam that seemed to work pretty well. I'll share it here in case you would like to try it during your own application process, and I'll include a template for you to use to record your own project management hours in case you haven't already created one yourself.
Recording your project management work experience
In order to apply for the PMP examination, you need to have amassed 4,500 hours of project management work experience. If you do not have a bachelor's degree, the work experience requirement is greater at 7,500 hours of experience. You need to have completed 36 months (three years) of unique, non-overlapping project management experience… that is to say that if you've completed all of your 4,500 hours of project management experience within a 12 month window, that is not sufficient to apply to take the PMP examination.
For each project that you have worked on during your career, you need to document the hours you have spent in each of the five PMI Process Groups. These groups are:
Initiating the Project
Planning the Project
Executing the Project
Monitoring and Controlling the Project
Closing the Project
After calculating the hours per Process Group for each project, you will arrive at a total number of project hours for that individual project. Once you have completed tallying your work experience for all of the projects you have worked on, you can then figure out the total hours that you have worked for all of the projects in your career. At this point, if you don't already know, you will be able to figure out whether or not you have the requirements to apply to take the PMP examination.
To figure this total out, I used an Excel spreadsheet that tallied up all of my hours of work experience per Process Group, per project, that I had worked on in my previous roles. I then used built-in Excel functions to figure out how many hours total that equaled. I have included a template like the one I used back then with this post, in case you'd like to use it to tally your own project management work experience.
You can download the template here.
Preparing for a possible PMI audit
The next and perhaps most important step you need to take before you submit your PMP application is to prepare yourself in case your application should get audited by the Project Management Institute. In order to do this, you will want to contact those managers who you have worked for in the past and send them the hours that you have indicated that you worked on projects while under their management in your Excel spreadsheet. You will then ask these managers: Should my application happen to get audited by PMI, will you attest that I worked the hours that I have indicated I worked on this spreadsheet?
If your managers agree to vouch for the hours you have indicated, then you're in good shape! Should PMI decide to audit your application, you can simply have your former managers sign off on the hours that you have already passed by them. Any conflicts or disagreements about the hours you have worked while in their employ should have been resolved before you submitted your PMP application.
Special cases
There are a few difficult scenarios that you may encounter when preparing for a possible PMI audit. These include:
What if your manager no longer works for the company you've filed hours for, and nobody at the company can vouch for your hours?
What if you worked for your own company and did not report to anyone?
What if the projects you worked on were top secret, government or military contracts for which you cannot disclose any information?
In these cases I recommend collecting as much collateral as you can about the projects you've worked for in the past – project charters, work breakdown structures, project schedules and the like – to demonstrate to PMI should they ask for it; unless, of course, this information is classified by the companies you've worked for. In that case, I would go in armed with the truth – that there are hours that you have indicated you have worked but cannot vouch for, and the reasons that you cannot vouch for them. I am sure that PMI has received many applications from project managers working in military or top-secret organizations who cannot disclose information about the various projects that they have worked on. In that case, I imagine that you can work with PMI to find a way to approve your application without your having to deliver any separate artifacts to prove your experience.
I hope that this article and accompanying spreadsheet come in handy when it comes time for you or someone you know to file your project management work experience for the PMP application. Good luck with your application, good luck with your PMP exam preparation, and good luck on the exam!