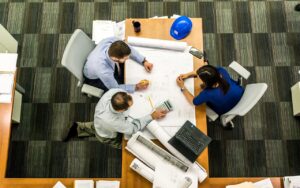 Plenty of project professionals from around the world are interested in becoming PMP certified. There are many good reasons that someone might choose to put themselves through the extensive time and effort involved with becoming a PMP-certified project manager. Maybe you are considering it yourself?
If you've decided you're going to go for it and get PMP certified, your next step is to figure out when you want to take the PMP examination, and how you're going to prepare in advance of that date. If you are facing these questions, then why not use the project management experience you've amassed over the past several years and treat your PMP certification process like a project?
Here's how I would go about doing it:
Create a project charter
Draft a project charter that outlines the goals of your project management certification, the general timeframe you're interested in following, and some of the constraints that you think you might face on your way to attaining the credential. This will get you thinking about the various work packages that you're going to need to include in your eventual project plan.
Perform some research on PMP certification and understand why it is that you are interested in becoming a certified professional. With a strong project charter, when you're feeling frustrated with your studying or filling out your PMP application, you can refer back to this document to remind yourself why you've decided to go through the process. It can help keep you on track all the way to your test date.
Draft a project plan
Use your project charter to come up with a strong project plan. Schedule the activities that you plan to complete. You can create a Work Breakdown Structure (WBS) where you can detail all the various work packages you need to finish to apply to take the PMP exam, and also what specific tasks you need to complete in order to achieve a thorough understanding of PMI's five process groups and the various processes that fall within them. This can help you to time-box your activities into manageable chunks. For example, on any given day, you might plan to spend an hour reading and memorizing the information from a chapter in a PMP exam test guide, or spend that hour memorizing the Earned Value formulas that you will need to know for the examination and going through some practice questions.
Next, you can place the various chunks of work that you need to complete onto specific dates. You can draft as aggressive an approach as you like – you can study once a week, twice a week, on weekends, or every single day! The beauty of having a plan like this available is that you won't have to panic… if you know how much work you need to complete and how long you have to complete it, you won't face a time crunch as your test date approaches.
Make sure that your project schedule is realistic… it can be a challenging schedule (most of the schedules we create as project managers tend to be at least somewhat challenging!) but if it's not realistic and achievable, you will end up failing your project. Be sure you understand exactly what you need to do in order to become PMP certified, and make sure that you have enough time in between the day you start your application process and the test date in order to get it all completed. Include all of the various book chapters you need to study, the practice tests you need to complete, the formulas you need to memorize, and anything else you feel you need to get done in preparation for the exam.
Follow your project plan
You should now know exactly what you need to do in order to complete your PMP application, and the tasks you will need to complete in order to understand the world of project management according to the Project Management Institute (PMI). The next step is the easy part… follow your plan! Make sure that you do follow the plan if you want to stay on track… it's easy to put off something that isn't part of your day job, or to get some much-needed sleep instead of studying for your upcoming test, but if you really want to become a PMP, you're going to need to do the work. Look back at your project charter to remind yourself of some of the reasons you want to become a certified Project Management Professional if you find yourself wanting to slack instead of put in the time to get the job done properly.
Revise the project plan if necessary
If you follow the project schedule you've created, you should be well on your way to getting the information you need to pass the test into your noggin. If, however, you're seeing gaps in your knowledge, or feel that you need extra time to go over some of PMI's content, you can always revise your project plan to take into account the changes. Remember to keep your plan realistic! You may need to schedule some more sessions on what used to be free days on your way to the examination date.
Take the PMP exam
When you've completed your project plan, you should be ready to take the exam. Make sure to get a good night's rest the night before the exam, and eat a good (but not too filling) breakfast before making your way to the test center.
Good luck!
Celebrate your success
If all goes well, with the help of your project plan you will have achieved your goal of becoming PMP certified. Now is the time to do what we members of project teams always do whenever we achieve something worthwhile… celebrate the success! Go ahead… you've earned it!