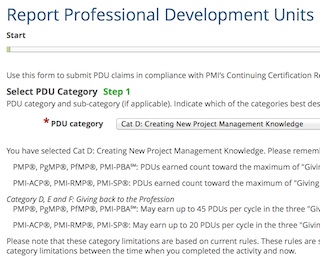 Are you PMP certified? Are you a blogger? Are you looking for a fun and easy way to earn Professional Development Units (PDUs) for your PMI certification?
Did you know that you can earn up to 45 PDUs per 3-year cycle by sharing new project management knowledge that you have created? This means that if you have an outlet to provide others lessons, tools, templates, insights, stories, or other project management goodies that they will be able to use to advance their own project management careers or aspirations, you can earn PDUs each cycle. You don't earn these PDUs by attending project management seminars, workshops, or classes… in a way, you are the project management class!
Once you've created your blog posts, tools, or templates, you can go ahead and file your PDUs on the PMI web site. Click on the Report PDUs button in the Certification Status box on your myPMI Dashboard page. In the menu that shows up, select Category D: Creating New Project Management Knowledge. Fill out your description, date range, hours, and contact information, and then enter your blog's web address in the box labeled URL. If PMI wants to double check the work that you've completed on your blog, they can head on over to your site using the address you have provided.
Sharing your own project management knowledge and experience is a fun and rewarding way to earn PDUs, and I also find that teaching and sharing information with others is a great way to learn more about your own project management knowledge and to enhance your own skill set. I highly recommend it!